Cycling has always been popular in Europe but it has been gaining more and more popularity all over the world. It is fun, it is healthy and it is better for the environment than driving a car (not to mention cheaper and no parking issues!). There are many amazing cycling locations all around Europe and Italy but what makes northern Italy so special, and specifically the area around lake Como and lake Lugano, is the terrain.
For many years the area has served as the practice ground for tour du France cyclers because of the challenging mountainous terrain and the varying altitudes. Lance Armstrong trained in the area and even fell in love with it and lived there for a while.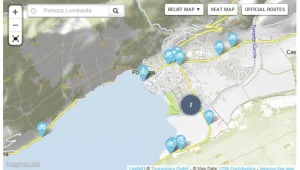 The area offers a lot more than just challenging mountain biking though. There are so many cycling routes in the vicinity of Porlezza and around the lakes to suit any level of fitness, age and personal preferences. From leisurely cycling around fields and paved roads through towns and villages, though circling the lakes to extreme rough terrain biking in the dense magical forests and climbing mountains – the area of the lakes and Porlezza has it all.
You don't even have to bring your own bike with you (unless you are absolutely attached to it) because you can rent bicycles almost everywhere.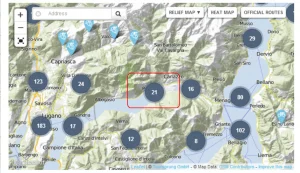 There is a lot of information available online and at the tourist information offices, including maps of cycling routes around the area. You can easily plan a trip on 2 wheels and have fun with it. If you bring your own bicycle or rent a pair for more than one day, you will need a place to store them safely at night so you will need to secure accommodations in one of the bike friendly hotels or a holiday apartment. One of the best features about the lakeview apartments for cyclers by the way, is that there is a locked lobby where you can store the bike at night. Combined with the strategic location, this is why for many years in a row groups of cyclers have been choosing our apartments as the best accommodation.
In this post we will include a list of useful links for cyclers. If you wish to stay with us for a cycling holiday – just let us know and we will do all we can help to provide you with information you may need.
Bike rental in Porlezza:
Zizzo Auto – Via Statale, 115, Provincia di Como, Italy
Phone number: +39 0344 70801
Information for bicycle tours and itineraries in Porlezza and the area:
http://www.lakecomo.it/en/getting_around/bicycle
http://www.bicyclinginitaly.com/tour_details.asp?tourID=1
http://www.bikemap.net/en/regional/Switzerland/Ticino/Lugano/#/z12/46.00673,9.11813/terrain