A few weeks ago Jay commented on our first Gelato post telling us that Panna e Cioccolato in Mennagio had been closed and is now operated by someone else under the name Frio. Jay thought they had good gelato.
We had to check for ourselves. We just got back from our visit to Porlezza and we indeed confirmed that Panna e Cioccolato is no more. We didn't try the new place though because we were in a hurry that day.
Still we had 10 amazing days in Porlezza and the area (Lombardy, Ticino) and we did manage to find two new favorite places!!!
The first and absolute BEST is il Gelato del Vecio in Chiavenna. It is about 80 km north of Porlezza (on the way to St. Moritz) but since Chiavenna is a city well worth a visit, make sure not to miss out on this location and the ice cream. We actually went there a second time after we stumbled upon it the first time we came. The ice cream is home made using only fresh and natural ingredients, which means that if you come back another day you may not find the same flavors again. What can I say – it was divine. Out of this world delicious!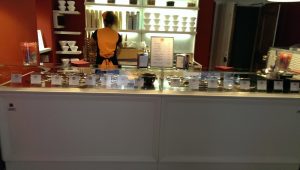 The first time we were with our friend so she had the plum and milk cream, my partner had melon and coconut and I had dark chocolate (of course!) and raspberries. It was simply amazing. The second time around it was just my partner and me and he had apple/cinnamon (heavenly!!!) and pistachio and I had the dark chocolate with orange (there were real bits of orange peel in it!!) and mango. It was just like eating the real fruit and the chocolate. It was that good!
The place has a certificate of their ingredients (all natural, all fresh, all local and organic) and they won contests for best ice cream on 2 occasions.
Don't miss on it!
Via Dolzino 25, 23022 Chiavenna, Italy
The second place which is great too is closer to Porlezza. It is in Morcote, switzerland, south of Porlezza on the southern shore of lake lugano. Unfortunately the pictures we took of the place disappeared and the place had no sign on the door. However, it is rather easy to find. Once you reach Morcote park at the parking directly before the entrance to the ancient village square. Go in to the main alley (parallel to the lake) and you will pass multiple souvenir shops and restaurants. Just when it looks the alley is about to end, on your left will be a wall with post boxes and on your right the ice cream parlor. It is also a bakery and they had one of those giant bins in the shape of an ice cream cone outside (and a bench) as well as a folding sign saying their Gelato is natural and home made.