It's not that Porlezza lacks bars and cafes and places to go to in the evening, but this bar is something else indeed! It's a real wine bar – a haven (and a heaven!) for wine lovers and it's right next to our apartments!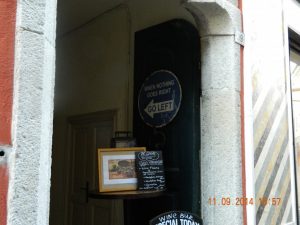 When you turn from the alley to the left in via Garibaldi, just past Pronto Pizza, you will see the wine bar. If nothing else, the unique sign will catch your eye: "When nothing goes right, go left" – and left you should go, right into the closed, almost secret, garden.
The wine bar is set up as a small cozy place with couches and warm lighting. But if the weather is right, you should definitely opt to sit outside in the garden.
The Wine list is pretty impressive and the owners, Mark and Anna (British expats) will gladly recommend regional Italian wines for your taste.
We visited together with a friend and Mark recommended three different wines: The Teroldego from the north of Italy (Trentino), another wine from the "middle of the boot" – Tuscany and of course one from Puglia in the south. All of them were simply amazing. We also had a platter of cheese and salami and some olives.
We enjoyed the place, the music and the hospitality (prices were reasonable too!) very much.
As with everything in Italy, il Cortile has a story behind it. Mark & Anna, the owners, are living the textbook Italian dream (or at least we hope they do!). They first arrived in Porlezza on vacation. Mark tells they arrived at night and went to sleep. In the morning when they opened their hotel window shutters the majestic lake lugano was revealed in all its glory. And that, according to Mark, was when they decided to move there and live the dream.
And so they did. Their story isn't a short one, it took time and effort but eventually they bought an old house in the middle of the ancient town (the borgo) and Mark lovingly renovated it and created his wine bar on the ground floor and the inner garden.
It's a refreshing change from the coffee bars and the pizza places and especially if you are looking for a quiet more "grown up" way to have fun. It is also a great substitute for the river pub (the Irish pub), which sadly closed down.
So next time you're in Porlezza, make sure you go and have a drink at il Cortile at least once (and say hi to Mark from us!).
You can find their complete wine list on their website. You can also follow their Facebook page and if you go – rate them on Trip Advisor!